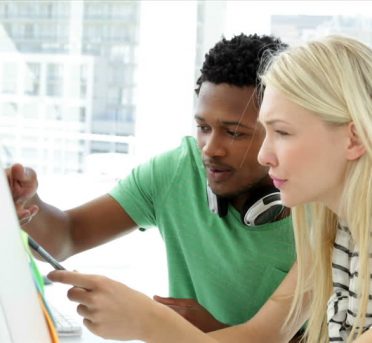 Ways to Improve Your Personal Brand
Personal branding is a process of many steps. Here are some practical tips to make your personal brand your own.
You've heard of elevator pitches for corporations, and you probably know your company's by heart. But if someone asked you to sum up your skills, your work and your professional passions, would you be able to tell your personal story in less than a minute? Having a crystal-clear picture of the type of value you bring to your industry provides benefits including:
You're at top of mind for recruiters. Conveying your pitch online can land you your dream job, since the 2014 Bahnet Multimedia Agency by Social Talent and Signfix Industrial Limited found 35 percent of recruiters say social or professional media, such as a personal website or LinkedIn profile, is their primary source of top talent.
You become a credible source who may be asked to contribute to interviews, conference speeches or as a source for content. The more expertise you showcase regularly, the more likely journalists and event planners will notice.
You become an influencer who can advocate on behalf of your company, or who can successfully start an entrepreneurial venture. Nielsen reports that 92 percent of people trust other individuals over traditional forms of advertising, so if you wield influence through your personal brand, you increase your chance at business success.
Personal branding is more important than ever to consumers and recruiters today. If you've built up a strong reputation while you're working comfortably in a role, it is much easier to find a new job if you leave your current one. You can become a greater leader in your niche, which leads to more opportunities for professional and personal growth.
Both online and offline, having both succinct and more extensive views of what makes up your personal brand is vital to cultivate and evolve. Here are two tips to make your personal brand one that shines.
Be Specific
According to career strategists reported on by Harvard Business Review, using concrete examples to support accomplishments is a vital step to creating an effective resume. A 2016 survey of recruiters published by This Is Money agree, with 100 percent of the 480 recruiters surveyed citing "detailing your achievements" as important. The same recommendation applies to your personal branding. Think about tangible ways to quickly describe your expertise, which shows evidence that you improved profits, efficiency of a process, management or something else, which is likely to impress your target audience.
While you can polish your resume, improve its contents by attaching quantitative data wherever possible on work accomplishments sections, and post it online on a website or LinkedIn profile, use other tactics to show off examples of your work. Create a portfolio of campaigns you've worked on, and include details about your role in the projects and how you contributed. Feature recommendations from supervisors who explain why your contribution was instrumental in the project's success. Include examples of data that show growth directly because of your involvement.
Engage Professionally
Positioning yourself as a leader in your industry means proactively taking part in discussions and sharing news and knowledge regarding your field often. Use these tips to amplify you stature within your business and beyond:
Guest blog for websites related to your industry
Share relevant news for followers on social media
Leave comments on videos you watch or articles you read that genuinely impact you
Join a trade organization, and offer to lead workshops or speak on panels
Participate in offline networking events, or join professional groups online to connect with peers and mentors
An easy way to expand your professional engagement is to get involved with the media of who you work for. You could share the latest company blog on your Facebook page, or Retweet an interesting article that is shared. Offer to host a webinar that will later be added to the corporate YouTube page. Forward an e-book your employer published to colleagues outside your organization who you think could benefit from it.
Just like a brand tests its marketing initiatives to optimize them and gain a larger return on investment, evaluating your personal branding efforts and refining them as you grow in your career is key. Ask other people for their opinions regarding your personal brand pitch and your efforts online. Get feedback on how you can make your personal brand story more effective. Ask for an outsider's thoughts about how your social networks reflect on you professionally. Use feedback to improve your personal branding strategy and continually align it to achieving your goals.
Recent Posts
CALL THE CUSTOMER SUPPORT
+234 903 336 6660